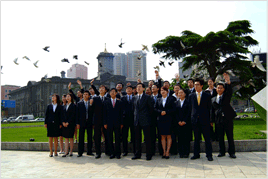 www.shippingchina.com, hereinafter called as ShippingChina is the biggest e-commerce website of ocean freight and logistics in China and the world, with affiliated sub-companies in Beijing, Shanghai, Shenzhen, Hong Kong and Europe. ShippingChina has 300,000 members with 2 million page views and 100,000 to 200,000 users search or release information on it every day. Its annual business volume is over 1 billions in US dollars.
After 8 years' development, ShippingChina has become a well known international brand in freight forwarding and logistics industry. There are 3 core products of ShippingChina, they are China E-shipping Center, Seagle B2B Search Engine and Global Shipping Summit (GSS).
China E-shipping Center
Shipping Mart is an E-Booking clusters that most capable freight forwarder groups offer group booking services online to customers in China and worldwide. Shipping Mart have already occupied over 30 Chinese big ports, 50 inland cities, 25 overseas countries and created totally 230 online booking service spots with business volume over 3 million TEU per year. Shipping Mart was entitled Science and Technology Renovation Award by Ministry of Science and Technology of the PRC.
Blue Currency Center
It is a financial service center offered by ShippingChina, including Freight-Pay, bank loan, Freight Credit Union and web-currency, which aims at helping shipping companies to solve financing and credit problems.
Value Added Services
ShippingChina also provides a series of value added services to all members, including group insurance purchasing online with PICC, Freight Credit Card, the first B2B co-branded card issued jointly with Hua Xia Bank offering individual financing service, RFID online for cargo tracking, cooperated with Shanghai International Port (Group), Freight Agency to assist freight forwarding companies at custom declaration, freight payment handling, invoice and B/L issuing etc.
Seagle is a shipping B2B search engine researched and developed by ShippingChina. The searching result is tradable, applicable data, which could be used for business co-docking directly. Now Seagle has over 40 million business opportunity information data in it. It has become the biggest intelligence vertical search engine in ocean freight industry. It helps customers to create more business opportunities, save costs, improve efficiency and increase business volume.
The GSS is a global shipping convention initiated by ShippingChina headquartered in Switzerland. The Summit aims at exploring new business patterns and cooperation of world's shipping under the new economic situation. The Summit has three targets: to establish a communication bridge between China and the world, to promote integrated operation of global shipping and to bring new blue economy's development regionally.
The GSS has been successfully held for five times and was known as Shipping Davos in the shipping industry. Officials from U.N. and governments, leaders from shipping industries from China and 30 other countries, total over 700 delegates from 30 countries attend, with live reports by over 50 domestic and foreign Medias.